Coyote 10' Straight Graphic Pop-up Display Starter Kit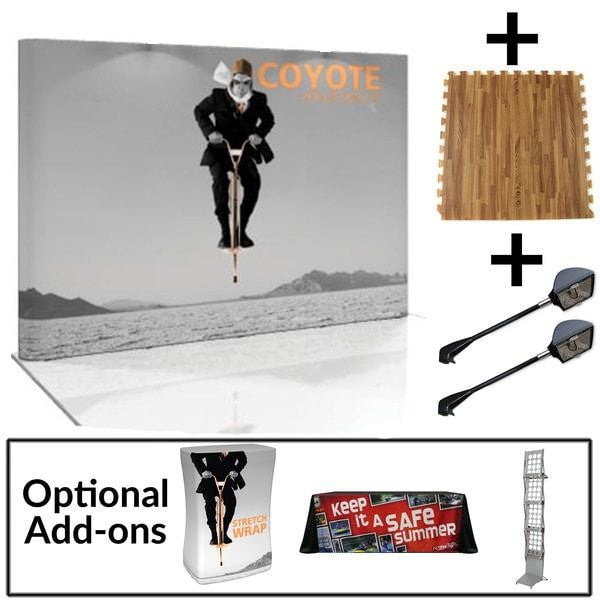 Did you know that Tradeshowjoe has two large warehouses (Versailles & Louisville) full of quality pre-owned displays, former rental inventory, cases, parts and related accessories.

Put our 20+ years of experience, network and knowhow to work for you!
Tradeshowjoe
has been producing displays for 24 years and going strong! Although a lot has changed in the industry and the internet has sure blossomed.... we are still as committed as ever to helping our customers to effectively market at trade shows, conferences or expositions. You benefit from a company that has attended and exhibited at 100s of trade shows across the country. We've been in this industry since the mid 1990s and there isn't much we can't do! Give us chance to be your secret weapon.
We are big enough to get you what you need and small enough to care!
Everything you need to get going with our 10ft Straight Coyote Pop-up display. The pricing for this listing includes custom printed graphic panels for the display. The Coyote Trade Show Booth features a classic and proven pop-up design, consisting of a pop-up frame and graphic panels that attach to it using channel bars. This package deal includes our recommended faux wood flooring with a soft case, one OCX Case for the display, and two Lumina 200 Flood Lights, along with the display.
Optionally, you can add our Illusion Literature Rack, OPC2 hard-shell podium conversion case, or a custom printed table cover.
Default Items Included in Kit:
Coyote 10' Straight Pop-up Graphic Panel Display (Graphic printing included)
Hard Molded OCX Wheeled Carrying Case for Coyote Display
Designer Faux Wood Interlocking Flooring - Your choice of color
2 x Lumina 200 Flood Lights
Available Add-on Options
Illusion Literature Rack
Printed Table Cover (for 6' or 8' table)
Stretch Wrap Podium Conversion Kit for OCX Case
Upgrade Lighting to LED (TSJ LED Strip Light)
Graphic Instructions
Please download the appropriate templates for your purchase in order to ensure the graphics you would like printed are formatted correctly. Once you have prepared the graphic, upload it here so we can review it for printing. If you have any questions, please feel free to contact us. We also offer graphic design services if you don't already have a graphic or designer in mind.
Coyote 10' Curved Display - Graphic Template
Note - Leave the endcaps blank if you wish to have fabric endcaps
OCX Case Stretch Wrap Podium Conversion Kit - Graphic Template
*For table covers, simply send your logo or design.
You may also like