Display Upgrade Kit for 10ft Booth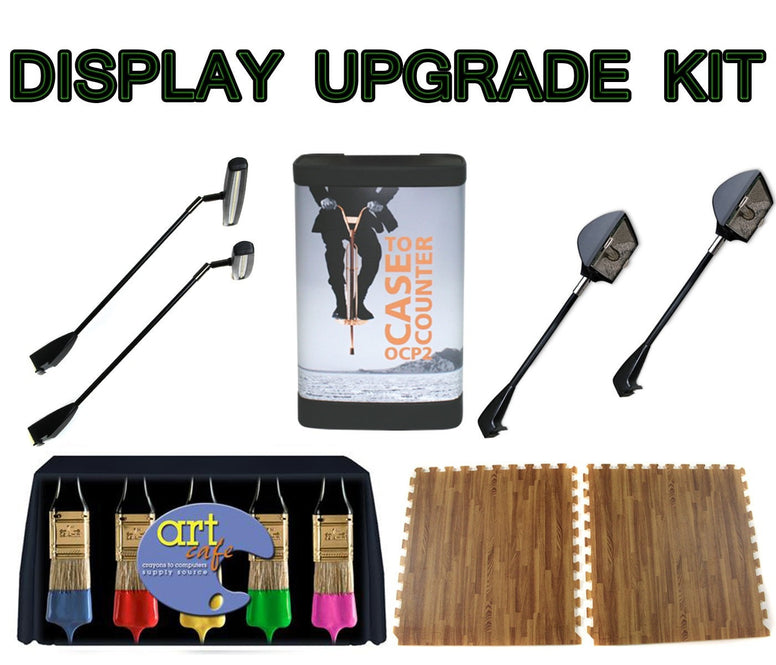 Did you know that Tradeshowjoe has two large warehouses (Versailles & Louisville) full of quality pre-owned displays, former rental inventory, cases, parts and related accessories.

Put our 20+ years of experience, network and knowhow to work for you!
Tradeshowjoe
has been producing displays for 24 years and going strong! Although a lot has changed in the industry and the internet has sure blossomed.... we are still as committed as ever to helping our customers to effectively market at trade shows, conferences or expositions. You benefit from a company that has attended and exhibited at 100s of trade shows across the country. We've been in this industry since the mid 1990s and there isn't much we can't do! Give us chance to be your secret weapon.
We are big enough to get you what you need and small enough to care!
Further customizations can be made according to your needs. Call us for details: 1-866-821-1520
You've picked out your main display for your 10' trade show booth. Now, what's next? To get the most IMPACT out of your display, you want to achieve that warm, welcoming vibe that separates your area from the rest of the exhibit center. To achieve this, the next step is to add flooring, lighting, and a graphic podium or table cover. Whew, but where do you start? To simplify the process, we've provided our most recommended options for you to select in a package deal! 
Let's break it down.
Flooring
Beveled or non-beveled edges?
Our faux wood flooring is 5/8" thick. The beveled edge option is designed with a taper around the edges of the assembled flooring kit, leaving a smoother transition from the exhibit floor to your custom booth flooring.
The non-beveled edge option does not taper around the edges, so there is a 5/8" raise without the tapered transition.
Flooring Color Options
Lighting
Your choice between two of our popular Lumina 200 halogen lights or two TSJ LED Strip lights that offer the latest in LED technology.
Note that due to heat regulations, the Lumina 200 halogen light is prohibited for use at Las Vegas Conventions.
More details - Click to view product pages below
Graphic Podium Kit or Table Cover
Do you prefer a podium or table for your booth area?
Podium
If you already have an OCP-2 or OCX trade show case, you have the option to purchase just the custom graphic wrap only in order to turn your case into a graphic podium. If you need a case, then we also provide the option to purchase the case and podium kit together.
Table
Find out what size table you will be using. You have the option between a full-color graphic printed table cover for a standard sized 6ft or 8ft folding table.
You may also like