Backlit L-Shaped Lumiere Stretch Fabric Display - 10' x 8'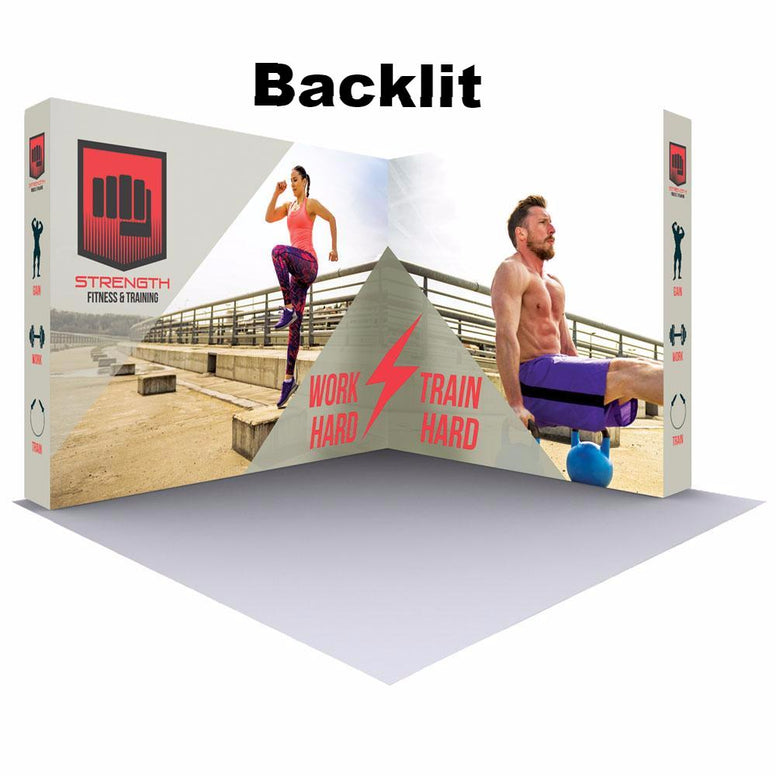 Did you know that Tradeshowjoe has two large warehouses (Versailles & Louisville) full of quality pre-owned displays, former rental inventory, cases, parts and related accessories.

Put our 20+ years of experience, network and knowhow to work for you!
Tradeshowjoe
has been producing displays for 24 years and going strong! Although a lot has changed in the industry and the internet has sure blossomed.... we are still as committed as ever to helping our customers to effectively market at trade shows, conferences or expositions. You benefit from a company that has attended and exhibited at 100s of trade shows across the country. We've been in this industry since the mid 1990s and there isn't much we can't do! Give us chance to be your secret weapon.
We are big enough to get you what you need and small enough to care!
The Lumiere Display line features unique configurations with tension fabric graphic technology, resulting in a highly appealing aesthetic appearance. The LED backlighting included with this Lumiere display will create a glowing effect behind your graphic, making it easily visible and attention grabbing without the use of overhead lights. This trade show display is designed for a 10' booth, presenting a wider area for graphics and leaving plenty of open floor space. The frame is a pop-up design, allowing for easy break-down, storage, and transportation. 
Includes:
(4) Main Graphics - 2 Front, 2 Back
(2) End Cap Graphics
(2) Pop Up Frames (10 ft. x 7.5 ft & 7.5 ft. x 7.5 ft.)
(4) 4-Section Channel Bars
(10) 3-Section Channel Bars
(8) End Cap Channel Bars
(2) Channel Bar Bags
(2) Carry Bags (for frame)
(3) L-Connectors
(7) LED Ladder Lights
(7) Transformers
(2) Transformer Power Cords
(7) Male/Female Transformer Connector Cords
(28) Middle Light Brackets
(28) Top/Bottom Light Brackets


Graphic Dimensions: 118.5′′ W x 89′′ H (Main Graphic 1), 89"W x 89"H (Main Graphic 2) & 14.25′′ W x 89′′ H (End Cap Graphics)

Graphic Material: Stretch Fabric

Finishing: SEG (Silicone Edge Graphics) Silicone Beading sewn around perimeter of fabric

Display Dimensions: 236.2′′ W x 88.6′′ H x 14.5′′ D
Download Graphic Template and use "Art Upload" link in top menu to send when complete.
You may also like