Lumière Light Wall® 5ft X 7.5ft - Graphic Package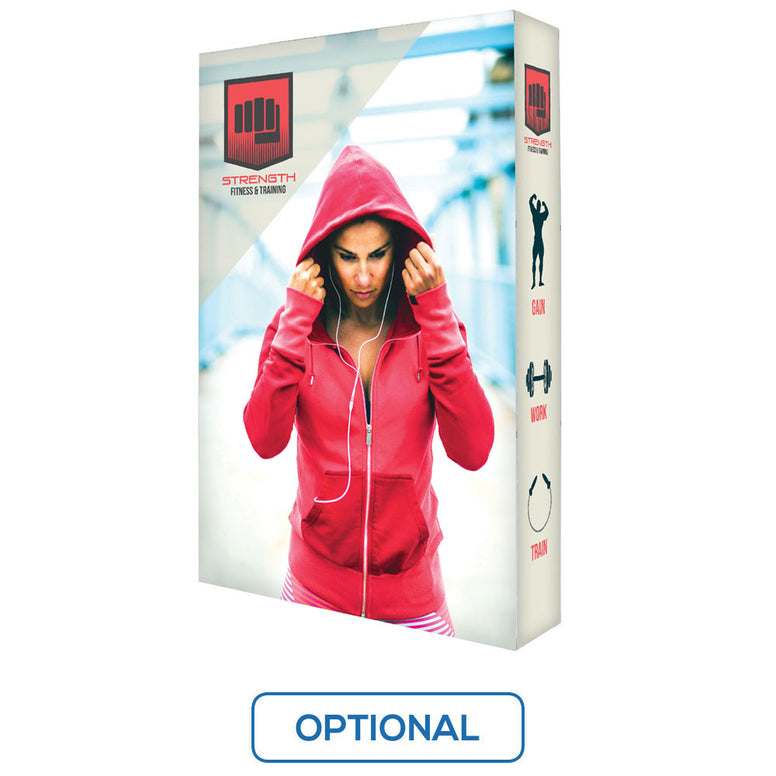 Did you know that Tradeshowjoe has two large warehouses (Versailles & Louisville) full of quality pre-owned displays, former rental inventory, cases, parts and related accessories.

Put our 20+ years of experience, network and knowhow to work for you!
Tradeshowjoe
has been producing displays for 24 years and going strong! Although a lot has changed in the industry and the internet has sure blossomed.... we are still as committed as ever to helping our customers to effectively market at trade shows, conferences or expositions. You benefit from a company that has attended and exhibited at 100s of trade shows across the country. We've been in this industry since the mid 1990s and there isn't much we can't do! Give us chance to be your secret weapon.
We are big enough to get you what you need and small enough to care!
Product Overview
Illuminate your message with the Lumiere Light Wall! Lumiere LED ladder lights made back-lit graphics pop on this innovative combo display of silicone-edge graphics and portable RPL fabric pop ups. Plus the Lumiere shrinks down in size: simply collapse the geometric frame and the SEG bungeed channel bars, and fold or roll the fabric graphics. Setup can be done by one person in 25 minutes. SEG portability is easy and stylish. Multiple Lumiere Light Walls can be connected together to create a larger backwall. Don't forget to add your fabric endcaps using the drop down menu. No matter how many you connect, you'll only need 1 pair of end caps.
*Ladder lights are installed on one side of the frame only. Single and double-sided displays use the same quantity of lights. Lights do not need to be installed on the backside of the frame for double-sided graphics.
*Hard case options will hold 1 frame w/bag, channel bars w/bags and a full set of LED ladder lights with transformers, clips, etc for frame sizes up to 10' x 7.5'
Includes:
1 Pop Up Frame
4 2-Section Channel Bars
4 3-Section Channel Bars
1 Channel Bar Bag
1 Carry Bag (for frame)
2 1x3 Ladder Light Sets
2 Travel Bag for Ladder Lights
2 Transformers
2 Transformer Power Cord
1 5ft x 7.5ft backlit graphics
1 5ft x 7.5ft blockoutgraphic
2 End Caps (Non-printed)
*Printed End Caps are also available
Features:
Display Dimensions: 59.25 " W x 88.75" H x 14.5" D
Graphic Dimensions: 59.25" W x 88" H
Frame Shipping Weight: 28 lbs (including graphics)
Frame Shipping Dimensions: 34" L x 14" W x 9" H
Ladder Light Shipping Weight: 16 lbs
Ladder Light Shipping Dims: 7.5" L x 5.5" W x 30.5" H
*Please note: You must supply graphics by uploading them here. Please contact us if you have questions about graphic size for this product or anything else. Professional graphic design services are not included, but are available for nominal fees as needed. For more details, ask your friendly TSJ associate or visit our services page.
Hard Case Options:
Add custom PVC or Laminate graphics to transform the Genie Counter Case into a portable counter at your next trade show or event! Inside shelving and countertop make for convenient space.
Genie Counter Case - Laminate Graphic Package Includes:
1 Laminate graphic print
1 Plastic Hard Case
1 Black Bottom Rim
2 Graphic Bracket Strip
2 Shelves
1 Curved Shaped Table Top
1 Shelf Bag
La Cajita Hard Case Product Features
La Cajita (pronounced "la ca-he-tah") is a smaller version of La Caja hard case with wheels. At 4 1/2 ft. long, it can fit a few retractable banner stands or select Resort Extrusions. Grip the soft handle to push or pull La Cajita as it smoothly maneuvers through narrow paths. Its rectangle shape and inset wheels make it easy to stack or pack, fitting in spaces a rounded hard case won't. A two-piece box, place the lid over the bottom; luggage straps with clip buckle ends, secured in harness slots, wrap around case and lock.
You may also like