Pre-owned 10' x 20' Interlocking Carpeting Tiles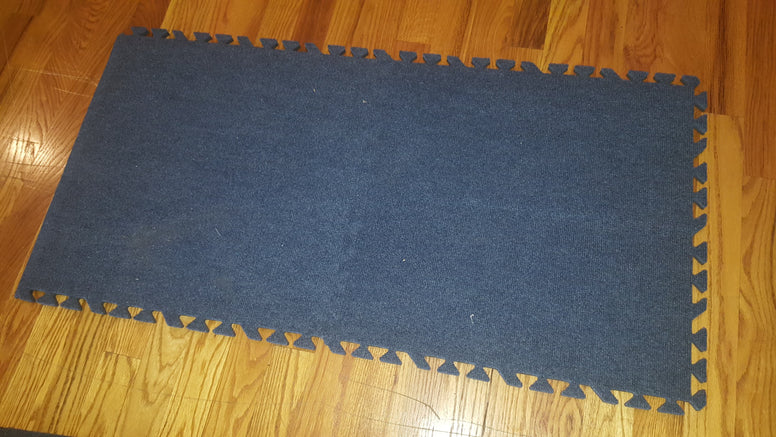 Did you know that Tradeshowjoe has two large warehouses (Versailles & Louisville) full of quality pre-owned displays, former rental inventory, cases, parts and related accessories.

Put our 20+ years of experience, network and knowhow to work for you!
This product is unavailable
Tradeshowjoe
has been producing displays for 24 years and going strong! Although a lot has changed in the industry and the internet has sure blossomed.... we are still as committed as ever to helping our customers to effectively market at trade shows, conferences or expositions. You benefit from a company that has attended and exhibited at 100s of trade shows across the country. We've been in this industry since the mid 1990s and there isn't much we can't do! Give us chance to be your secret weapon.
We are big enough to get you what you need and small enough to care!
Product Overview
Pre-owned and in excellent condition....Interlocking Anti fatigue Trade Show Flooring.  Full, flexible foot and leg support makes this carpeting material looks and better yet feel great.   We acquired this kit from a trade in on a pre-owned 20' Skyline Mirage display.  Gives a more professional image to any booth!  Set-up and tear down the entire floor area in about 15-20 minutes.    
Comes packed in 2 reusable corrugated cases measuring 52" x 27" x 9"
Color:   I'd describe it as a Slate Gray.  Others call it a Light Charcoal.  
Includes:
50 Tiles - Suited to Fill A 10' x 20' Area
Tiles are 2' x 2' and 1/2" Thick
Closed Cell Foam Padding
Premium Industrial Grade Carpeting
Stain Resistent
Excellent Pre-owned Shape!
Compare to retail price: $878.00
You may also like